SITECH support is a customer service app that provides 24/7 support through a unique login portal. Using this app, problems can be easily resolved by customers independently. This is app is available exclusively for you as a SITECH customer in the App store or in the Google Play Store.
Sitech Support is active in +18 countries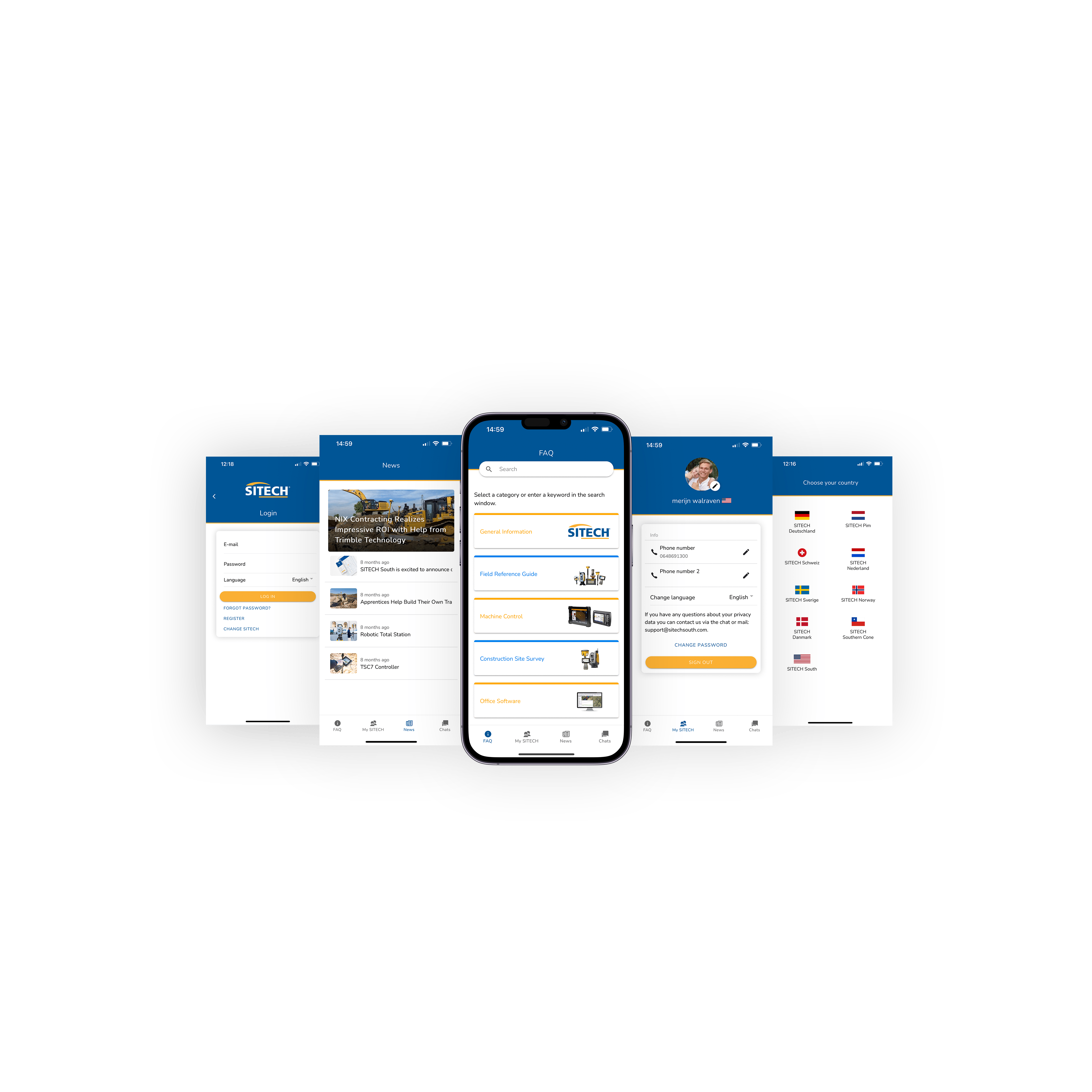 Working faster & better than ever
With the SITECH application With the SITECH app you can as a customer yourself solve the most common problems. This allows you to get to work quickly again. There is an interactive FAQ, where all questions can be answered. In addition, SITECH offers information about new products, installations or outages by push notifications, thus your business is always up to date with new developments. The goal of SITECH is to create a digital (learning) environment in which all users can communicate with each other by sharing content and relevant information.
Endless possibilities and the best support
The Sitech app offers endless possibilities for solving problems or questions. It combines many links to different support modules, such as FAQ's, chat function, MYSITECH, and much more! This can help in providing the best support to our users. As a Sitech user, you get personalized credentials to log in to your personal portal. You also have access to your data sheet that helps in managing your orders better. All this is made easier through an easy-to-use app that is customized according to all your support related questions.
Document function
With this module, it is possible to create your document formats like google drive or dropbox. It is possible to make certain folders visible in the app as well so that users can find documents again. When an agreement is signed, it is easy to find it in the app.
Sales function
Every company has its own sales process. With the Youno platform, it is possible to simplify this easily and quickly. Together, we are going to make the sales flow digital and ensure that you can organize the sales in an easy and well-organized way. You can link employees to leads, create reminders and tasks, set targets, mail, monitor performance, and view financial data. It is also possible to link other parties to retrieve data more quickly. Examples include links with overheid.io, an EAN codebook, or a bag viewer.
To Do function
With this module, to-do's and matching tasks can be created for yourself or your employees. You can add comments, documents, dates, and deadlines to the tasks, for example.
Chat function
The chat function offers the possibility to chat with customers, users, and members of your team. As a user, you can choose when the chat should be online or offline. Easily chat with a group of employees? This is possible by creating communities! Separate modules can be created per community.
News function
Want to keep your customers, users or staff members informed of the latest developments? This is possible with the news function. All important contributions or developments can be shared in this function. Think of all the major news sites and apps. It is also possible to send news by push notification or mail.
Webshop function
In this module, it is possible to set up a webshop in no time. Customers can easily buy products and pay via the app or online webshop. Managing and administering the webshop is easy on the Youno platform. Think for example of adding products or processing orders.
User function
You can create users in the system; these are colleagues who will have access to your system. You can assign different roleswith the corresponding permissions. For example, a super admin, who has access to the entire system, or a manager, who only has access to his part of the company.
Ticket function
Customers, users, or employees can create a ticket for problems, questions, or other issues. These tickets can for example be provided with a deadline, to do's, or the responsible employee. This makes it easy to create a support case. In addition, statuses can be added and the user is always kept up to date about his request.
Inspection function
With this module, you can perform inspections. A precreated standard procedure that is easy to carry out via the dashboard or app can then immediately be digitally signed by the user or customer.
Payment function
With the Youno platform, it is also possible to arrange your payments. These can be one-off, monthly, or daily recurring payments. The client receives in the app, by mail, or by SMS a link with which they can pay. When payment is not made, the system itself starts sending reminders until the payment is made. In addition, there is a clear overview of all payments in the app.
Call back function
Forgotten to call back or a call doesn't come at the right time? No problem, just submit a callback request and schedule your call appointments!
Request function
With this module you can easily save data on a digital map by using colours. For example for scouting properties, this module can create a map with al the interesting properties.
Agenda function
With the modules, it is possible to schedule appointments with your customers, users, or colleagues. It is possible to send a reminder before the appointment. If you have suppliers, they can also be linked and make their appointments with the user. For example, for a repair, the user can request the app and this can be forwarded in the dashboard to a supplier, who can schedule an appointment with the user through chat or email. The user also sees the appointment in the app.
Supplier function
Not only customers or employees can be linked to the system, but also suppliers. Think, for example, of a handyman or cleaning company. Suppliers can also easily schedule appointments with users or open a chat.
Cloud function
This module ensures that all your data is stored in the cloud.
FAQ function
Through the FAQ, customers can solve problems themselves in no time. The question tree provides answers to various problems or questions, which can alleviate a large part of the support burden. This FAQ can be updated in real-time and analyzed so that you can improve it according to the use of your users.
CRM function
Youno, with its various modules, can serve well as a CRM tool for your company. It makes it possible to bring different processes, communication, data, or actions into one system. Because the system is available online, every colleague has worldwide access to all data.
Contract function
In this module, it is possible to create contracts easily. You only have to fill in the variable in the platform and the system generates the contract. Not only managing or creating it becomes possible in this function but also signing it. You can have the document or contract signed immediately and easily with our digital signature function.
Company function
It is also possible to create companies as individual users. The individual users can then be linked to a company, creating the possibility for companies to have their login to your system and manage all functionalities themselves from there. You can also add data fields here. This allows you to create a clear overview of your customers and the corresponding users.
Customer function
Customers and users can be added to the system. You decide which data fields belong to the users, this is always easy to change. For example, think of a name, email, or address data. Furthermore, it is easy to link things to a user; think of contracts, files, communication traffic (chat/email), etc. In addition, the analytical data can be viewed for each user.
Mail function
It is possible to add different locations to the system. Think, for example, of different buildings that you rent out or different branches that you have. This way you can create a unique environment for each building and tenants from other buildings will see different data. This also applies if you have another branch for which different data applies.
Our team knows
how to support.
The Sitech team is always offering support! Sitech is an application that provides 24/7 support through a unique login portal. Through this application, customer problems can be easily resolved.

You will find many answers to frequently asked questions on the FAQ page. Is your question not listed on the FAQ page and would you like contact us for your question? No problem, then send an
e-mail to info@youno.io or call the number +31 6 83 162632 and you get an answer on your question! Adjustments or problems will be answered with a time indication, even if there are extra costs involed. Would you like to make an appointment with the Sitech team for help, questions or information? Then contact the team and you can make easily an appointment!